Co-Managed IT is a newer approach to IT that busy and growing businesses are using today to get the IT services and IT support they need WITHOUT the costs or challenge of building a large internal IT team or having to constantly invest in expensive IT tools.
Unlike a traditional outsourced IT services and support model, Co-Managed IT is meant to provide your internal IT leader and team with the help they need to be successful in today's business world. Whether extra hands, better IT tools, specialized expertise in cybersecurity and compliance, or more time to handle their workload—the idea is to free your internal IT team up to be productive in the areas you need them most and putting them in situations where they can make the biggest impact on your business.
To be very clear, Co-Managed IT is not about replacing your internal IT talent.
It is important to understand this part before you continue on. Everything that Co-Managed IT stands for, recognizes that you have smart, capable, hard-working employees that know your business very well—but at the same time—are potentially spread thin and overwhelmed by the growing technology needs of your business.
Co-Managed IT relationships make sense because overseeing an IT department today requires a small army of IT professionals and it is also quite challenging to hire, manage, and retain top IT talent. Co-Managed IT is the most cost-effective and strategic way to complement your current IT staff in managing the complexity of IT issues they face each day.
If you have never heard of this concept and Co-Managed IT is new to you, that's okay, you have come to the right place! This article will provide a beginner's introduction to Co-Managed IT and cover the following topics:
1. The IT Resource and Skill Dilemma
2. How to Tell if Your IT Team is Burning Out
3. An Introduction to Co-Managed IT
4. The Benefits of Co-Managed IT
5. Scenarios When Co-Managed IT Works Best
6. When Co-Managed IT Doesn't Work
Ready to learn how you can benefit from Co-Managed IT? Let's get into it.
---
The IT Resource and Skill Dilemma
Before understanding what Co-Managed IT is, it's important to understand the challenges IT teams are up against each day. According to ManpowerGroup research, the global tech talent shortage has nearly doubled over the last decade. During the struggle of filling open positions, the talent shortage continues to worsen due to the following main three stressors.
Cybersecurity threats are rising, yet millions of IT positions remain unfilled. CEO's are faced with the challenge of deciding where to allocate limited internal funding and since IT investments are more difficult to estimate, and the return of investment is not easily measured, cybersecurity is often overlooked. IT departments are then left to "make do" until budgets are increased, struggling to keep up with all that is demanded of them. The tech shortage is becoming even more concerning for businesses as cyberattacks have become more frequent over the years. With less skilled, expert hands, more and more businesses are felt vulnerable to the risk of a breach.
Their workload is too overwhelming. With an ever demanding work schedule, decision-makers may be likely to prioritize and assign strategic projects to their IT team rather than investing time and energy into proper training. However, without the correct training and resources, this delegation creates a domino effect of late projects, uncompleted projects, and low morale amongst an IT department that isn't set up for success.
They struggle to get tasks done due to skill gaps. Surely, your IT lead and staff are intelligent, dedicated, capable, hard-working people. However, no one person can know everything when it comes to IT. In fact, more than 80% of U.S. IT departments struggle with skill gaps. The issue has become so widespread that the overall global skill gap has grown by 155% in the last three years. This lack of proper training and knowledge costs employers up to $22,000 per employee and downtime of up to 416 hours annually.
According to a Korn Ferry study, if these areas aren't proactively dealt with, the IT resources and skill dilemma may result in 8.5 trillion of unrealized revenue.
In the meantime, "making do" and "hoping" that everything is okay is walking on slippery ground when it comes to cybersecurity. Failed servers, ransomware attacks, corrupted databases, and crashing disks can cause loss of data never to be recovered. They regularly act as the branch that breaks a business's "back" and closes the doors for good, especially if your staff is already pushed to their limits and are in need of extra support.
---
How to Tell If Your IT Team is Burning Out
Limited resources, including a lack of access to the latest tools, hands, and specialized knowledge in compliance and cybersecurity, will lead to an IT department taking on too much on their own. Over the last 35 years in business, One Step Secure IT team members have helped over 1500 businesses find the right technology solutions that fit their business goals and budget. During our time in the industry, we have identified several warning signs that your team is being spread too thin.
Your team is close to burning out if...
They are routinely working nights and weekends, risking becoming burned out quickly.
Projects aren't done correctly or in a timely order.
They are showing a heightened emotional display, aggression, or resentment due to lack of support, and being told over and over to "make do" until the budget improves for more help.
They aren't rolling out preventative security measures.
They are often interrupted while on vacation, after hours, or during the weekends due to lack of support when they are away.
Your hardware and patches are not up to date.
Notice any of these behaviors in your own IT team? Co-Managed IT can help balance the workload and set your department back on track for success.
---
An Introduction to Co-Managed IT
If your business is like most, then you don't have an unlimited budget. So, as your business grows or times become especially busy, it can be too expensive and unreasonable to invest in all the software, staff, and tools needed to maintain professional IT support. Luckily, there is a new solution for this problem.
Co-Managed IT is designed for modern businesses to get the support, specialized knowledge, IT management and automation tools they need without the cost or difficulty of finding, managing, and retaining a large IT team or continuously investing in expensive tools. It is a flexible partnership with an IT company to help businesses get superior IT services and support normally only found within a large, well-funded IT department.
Co-Managed IT is NOT about taking over for your IT leader or replacing your internal IT department—it's about making them better with access to better tools and training. Co-Managed IT will help your IT team improve productivity, solve problems faster, and be more strategic, without adding to your headcount to fill resource or talent gaps.
It's about getting the supplementary support and resources that you need to provide extraordinary IT support, empowering your IT lead the hands they need in order to thrive in their position.
---
The Benefits of Co-Managed IT
More CEOs are transitioning towards Co-Managed IT thanks to the conveniences, efficiency, and flexibility it offers their business. When engaged in the true partnership of Co-Managed IT, you can enjoy those plus a great variety of benefits including:
Access to powerful IT automation and management tools to effectively solve IT issues and improve communication.

Betterment of your IT staff and boosted productivity by filling in the gaps with the best-in-class tools and training.

Minimization of security vulnerabilities and protection for your business from the latest security threats with powerful IT automation, best practices, critical maintenance, and employee awareness training.

Peace of mind when planning for the future with the expertise of high-skilled cybersecurity and compliance experts that understand your problems and technology.

Dependable, on-demand support whenever you need it, especially during emergencies, without having to worry about availability due to weekends, vacation, or sick days.

Defense against outside threats with scheduled or automated regular maintenance, updates, patches, and security checks at a fraction of the cost of a large IT department.
All of these benefits together create a powerful combination fit to tackle even the toughest problems, encourages productivity, and allows both parties to do what they are good at.
---
Scenarios When Co-Managed IT Works Best
Co-Managed IT isn't for everyone and that's okay. However, if you are unsure whether a service provider partnership would work well for your business and goals, let's look at the flexibility of Co-Managed IT and where it would work best.
Here are 4 common scenarios where a Co-Managed IT partnership makes sense.
Your existing internal IT staff is needed on high-level strategic projects and needs help with tedious day-to-day tasks such as software updates, data backups, maintenance, troubleshooting various problems, and providing help-desk resources to your employees.

Your current IT employee is great at end-user support and help-desk tasks but lacks expertise in current cybersecurity protection, compliance regulations, cloud technologies, and server maintenance. Your team continues to do what they do best, and we fill in the gaps in areas that are lacking.

Your company is rapidly expanding and needs high-level resources and extra IT staff hands (without the costly overhead), stat. Co-Managed IT allows your business to phase smoothly and quickly as you build out your internal IT department.

Your IT team is excellent and proficient but could better excel with access to professional-grade software tools we use to be more organized and efficient, along with our help desk. Through our partnership, we would give these tools and training on how to use them properly.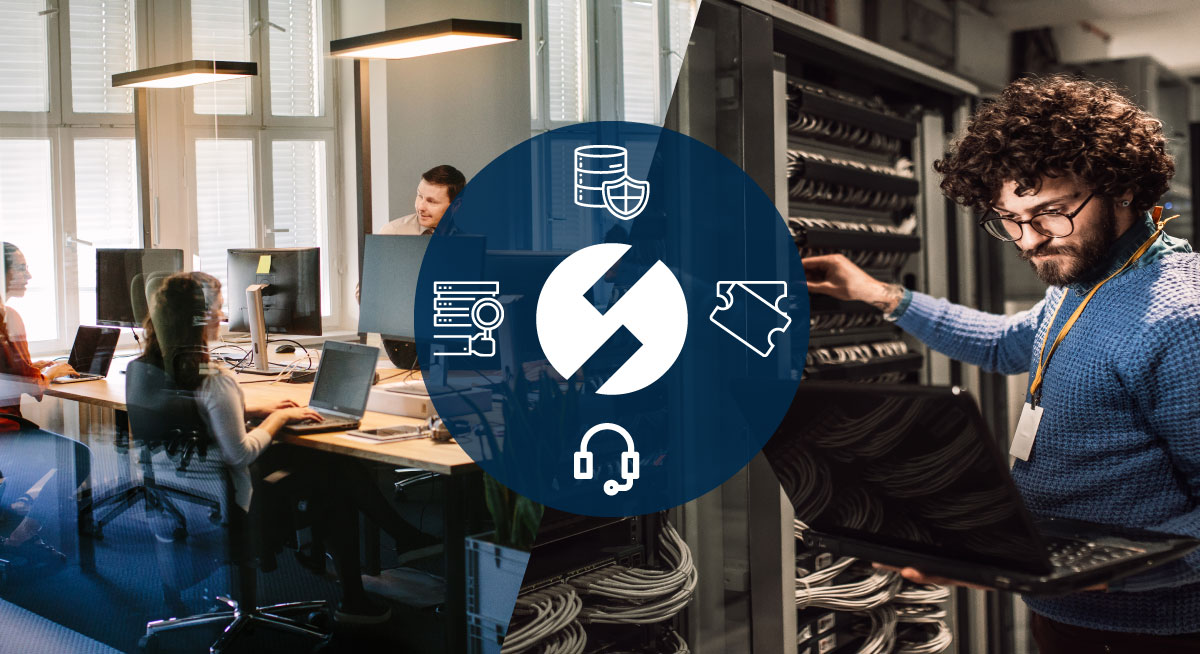 Again, Co-Managed IT isn't to replace your in-house IT staff. It empowers them by adding extra hands and gaining access to the latest tools and technology, and expertise in compliance and cybersecurity to better support your business' operations. It frees them up to be more strategic and proactive in one the projects or implementation they are needed most on.
---
When Co-Managed IT Doesn't Work
Co-Managed IT isn't for you or your teams if...
You don't already have an IT team or are looking to replace your entire staff. Co-managed IT is a flexible partnership, in which collaboration is expected to meet goals, and regulate cybersecurity measures and compliance regulations. We do NOT take over the role of your IT team lead.

You don't believe that investing in IT works or is worth it.

Most businesses don't have an unlimited budget, so it is important to watch spending and cut costs whenever possible. Co-Managed IT enables you to get the most bang for your buck. Consider the average on adding just ONE additional IT team member to your staff according to Glassdoor.


Then add the benefits of health insurance, dental, paid time off, training, and investing in new equipment, and the price tag gets higher and higher.
While still an investment, the partnership of Co-Managed IT offers you much more than just a set of hands without the costly overhead. Rather, it opens the door to your team access to next-gen resources, tools, and talent, that are typically only available to large firms, all at a lower cost. Co-Managed IT teams also don't take sick days, maternity leave, or leave for vacation. So, while your team takes their break, you can have peace of mind that your business is covered by 24/7/365 system monitoring.
---
Conclusion
Gain confidence and peace of mind that your business can properly defend against cyber attacks and operate as smoothly as possible. Take the struggle out of finding additional great tech talent, tools, and expertise, and partner with a service provider you can TRUST. Between our 60+ technology enthusiasts and their 500+ years in technology, we understand your concerns and are dedicated to your success and growth.
If you've asked yourself, "am I getting my money's worth in IT?", "is my team as efficient and productive as they should be?", or "am I truly prepared against a breach?" set up a 10 minute call and talk to a team member to discover if Co-Managed IT can work for you.
---