Get the most from your applications to positively impact your business.

Increase the information available to you to analyze your business and make informed planning decisions.
Develop efficiency for your staff in their day-to-day responsibilities.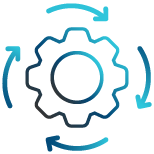 Integrate multiple processes while eliminating islands of automation.

Avoid molding your work to suit your software— let your software suit your specific needs.

Evolve and scale your custom software as your company grows.